SUPPLIES & FOOD DONATIONS
The Russell Home is always in need of certain household supplies, cleaning items, food stocks, and other items. Drop these off at 510 Holden Avenue or our Orange Ave Thrift Store between the hours of 10am & 6pm.  Please call us for information about any current special needs. Thank you! 
CHANGE IN DONATIONS

TO THE THRIFT STORE
Because of your incredible generosity The Russell Home for Atypical Children Thrift Store will no longer accept donations of clothing, bed linens, bath linens or blankets until further notice.
The community has been incredibly generous by stocking our warehouse, shed and thrift store to the point we simply have no space!
We will continue to accept household items, kitchen cookware, dishes, lamps and furniture.
This change will go into effect immediately and will continue until further notice.
Thank you for your understanding.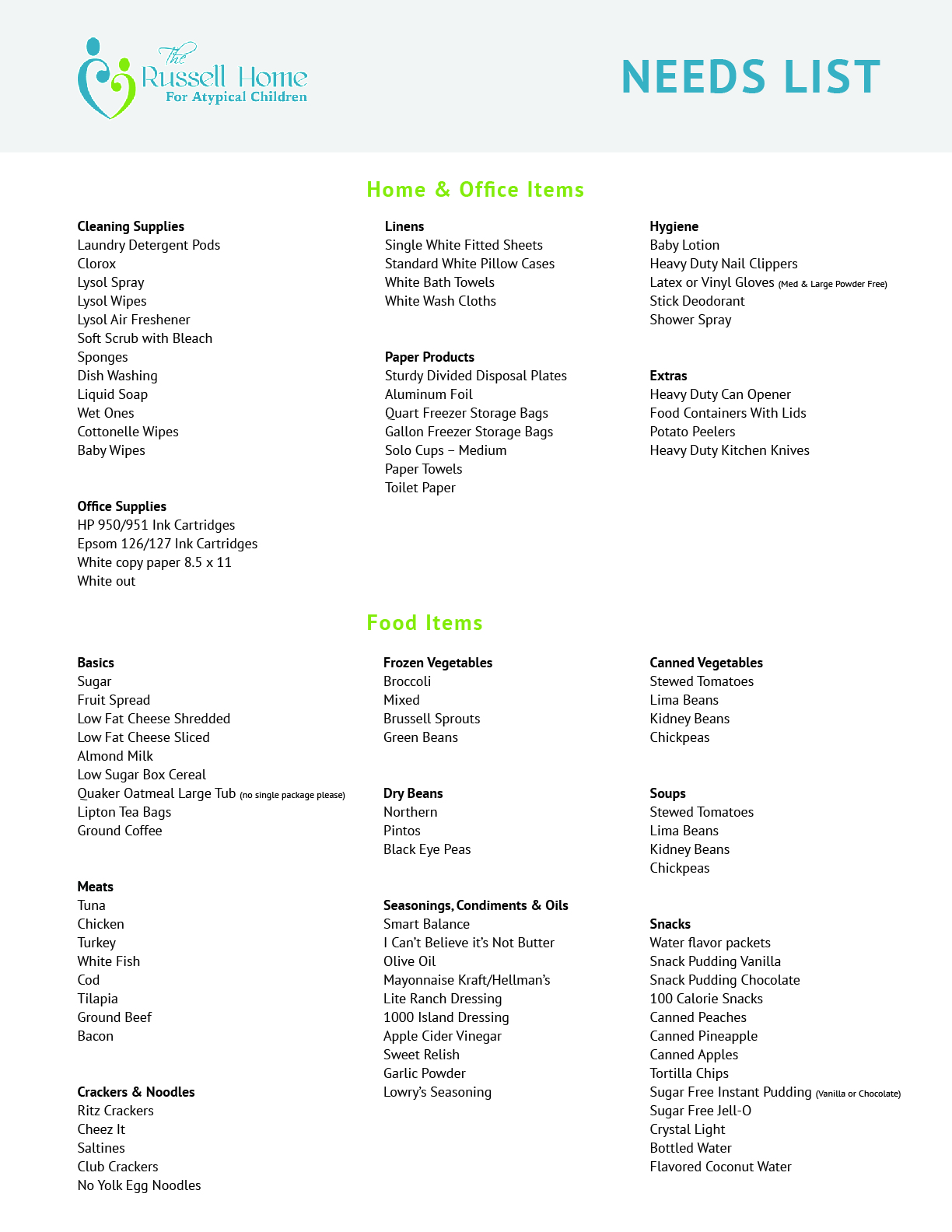 Click the button below to view and download a
PDF of our Needs List!
Cleaning Supplies
Laundry Detergent Pods
Clorox
Lysol Spray
Lysol Wipes
Lysol Air Freshener
Soft Scrub with Bleach
Sponges
Dish Washing
Liquid Soap
Wet Ones
Cottonelle Wipes
Baby Wipes
Office Supplies
HP 950/951 Ink Cartridges
Epsom 802
White copy paper 8.5 x 11
White out
Linens
Single White Fitted Sheets
Standard White Pillow Cases
White Bath Towels
White Wash Cloths
Paper Products
Sturdy Divided Disposal Plates
Aluminum Foil
Quart Freezer Storage Bags
Gallon Freezer Storage Bags
Solo Cups – Medium
Paper Towels
Toilet Paper
Hygiene
Baby Lotion
Heavy Duty Nail Clippers
Latex or Vinyl Gloves (Med & Large Powder Free)
Stick Deodorant
Shower Spray
Extras
Heavy Duty Can Opener

Food Containers With Lids

Potato Peelers

Heavy Duty Kitchen Knives
Basics
Sugar
Fruit Spread
Low Fat Cheese Shredded
Low Fat Cheese Sliced
Almond Milk
Low Sugar Box Cereal
Lipton Tea Bags
Ground Coffee
Bread
Meats
Tuna
Chicken
Turkey
White Fish
Cod
Tilapia
Ground Beef
Bacon
Crackers & Noodles
Ritz Crackers

Cheez It

Saltines

Club Crackers

No Yolk Egg Noodles
Frozen Vegetables
Broccoli
Mixed
Brussell Sprouts
Green Beans
Seasonings, Condiments & Oils
Smart Balance
I Can't Believe it's Not Butter
Olive Oil
Mayonnaise Kraft/Hellman's
Lite

 

Ranch Dressing
1000 Island Dressing
Apple Cider Vinegar
Sweet Relish
Garlic Powder
Lowry's Seasoning
Canned Vegetables
Stewed Tomatoes

Lima Beans

Kidney Beans

Chickpeas
Soups
Cream of Chicken
Cream of Mushroom
Snacks
Snack Pudding Vanilla
Snack Pudding Chocolate
100 Calorie Snacks
Canned Peaches
Canned Pineapple
Canned Apples
Tortilla Chips
Sugar Free Instant Pudding (Vanilla or Chocolate)
Sugar Free Jell-O
Crystal Light
Bottled Water