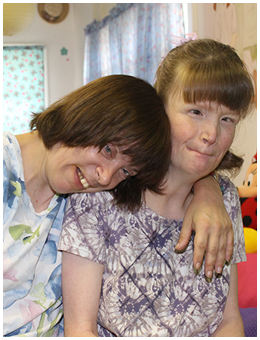 Lisa Dunlap came to our home via social services in 1971. Lisa was born on October 5, 1967 with a deficiency in her 22nd chromosome; she was born during the second trimester of pregnancy.
Four years later Lisa's mother notified Grandma Russell that she had another little girl born in Japan on November 10, 1972, Jackie. Jackie was born with a metabolic condition and a special needs child. Jackie arrived in 1975.
Lisa was so happy to know her little sister was coming to live with her. Lisa has looked after her little sister over the years they share the same bedroom. They have both attended school and Lisa attends the Primrose Workshop each day.
Both Lisa and Jackie's conditions are multifaceted. They are both very happy.