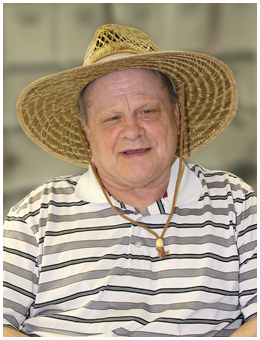 Kenny's parents brought Kenny to Grandma Russell in 1951 at the age of 18 months old. His father was an Air Force Pilot stationed at McCoy Air Force Base. The family had to leave for overseas, so Kenny stayed with Grandma Russell.
Kenny became a part of our family very quickly. He was born with cerebral palsy but that did not hold him back. He learned to walk with braces on his legs, became active in school and extracurricular activities at the Russell Home. He was one of the first children to attend the Magnolia Special Education School, which at the time, was in barracks on Primrose Street.
Kenny has always had a love of airplanes, knowing his Dad was a pilot. A group of pilots from the Herndon Airport, arranged an airplane flight for Kenny in the early 90s; it was a thrill of a lifetime! Kenny's father returned to see Kenny when he retired from the Air Force. He brought Kenny his Air Force Pilot's Jacket, Mr. Daly passed away several weeks after that visit.
Kenny is now 65 years old and is in a wheelchair. He is still the happy little boy who came here as a child and tells everyone he meets, he is going to walk one day!