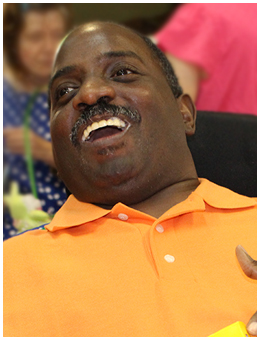 The local police department brought Benji to Grandma Russell in 1971 after a family dispute. He was in a wheelchair and had very little use of his arms. He immediately became part of the family! His relationship with Grandma was very special and he will be the first to tell you he is and was her favorite!
Grandma Russell enrolled Benji with Forest Park School for crippled children so he would receive physical therapy treatment daily. He later enrolled into Magnolia Special Education School for his academic education. Benji was a cub scout for several years, he graduated from Magnolia and he attended his Prom.
Benji's family reunited with him prior to his 40th birthday.
Benji's favorite day is Sunday! He loves to attend the church service held at the home by Martin Bird and Stephen Brock. Benji is the biggest Magic fan in Orlando and JJ Reddick will be his favorite player for all times.
Benji will turn 48 years old on May 30, 2015.